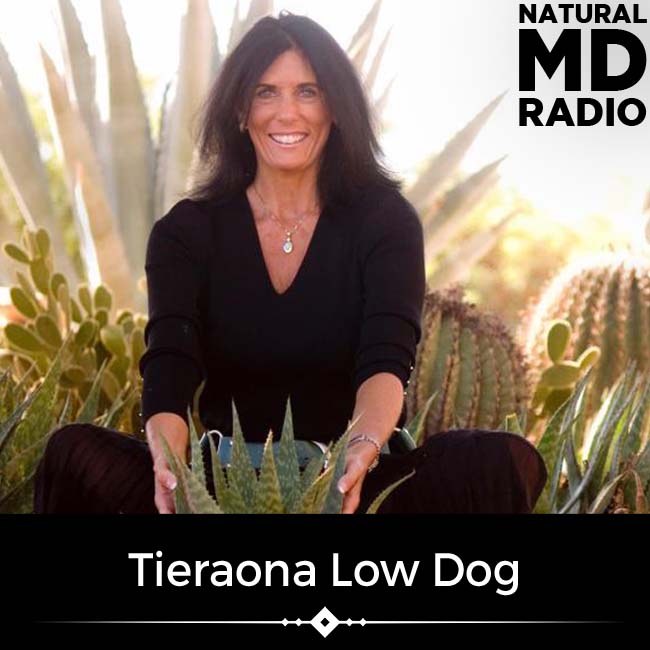 Recently the NYC Attorney General's office took some supplement samples off of store shelves, tested
them, and found that there was a big difference between their ingredient claims and the actual contents. The next thing we knew, the news was full of stories about supplements being a farce, a waste of money, and even a danger.
This led to a lot of consumers and doctors questioning both the efficacy and safety of supplements.
Today I'm talking with my dear friend, and a true wonder woman Dr. Tieraona Low Dog. If there's a natural medicine superhero on this planet, it is this woman. We've known each other for 25 years now and have an incredible amount of life in common. This mama really walks the talk, growing her own food, living with animals in the home she built with her husband. Today we're talking about supplements: whether we need them, the role of supplements in women's health and health in general, how we can use food as medicine, and when you can actually use supplements. And we'll talk about how important is as women to take care of ourselves, cell to soul.
You can Subscribe to the Podcast on iTunes or Soundcloud
"Herbs are more complicated than vitamins or minerals." – Tieraona Low Dog
Show Notes:
Why DNA testing of supplements isn't perfect
Why Americans need to supplement their diet
The vitamin shortages in the U.S. population
What approach Dr. Low Dog would take to depression
How to look at the causes of depression and anxiety
Why we need to think about preventing issues in the next generation
"Let's think about if we want to pay the farmer now or the pharmacist later." – Tieraona Low Dog
How to get more fermented foods in your diet
What happens when you take antibiotics
Why you aren't destined to get your parents' genes
What supplements Dr. Low Dog recommends for women
The issues with non-GMO foods, unfortified foods, and more
Why you need to diversify your diet
What rules to follow about what you put in your body
Dr. Low Dog's advice for making life your best medicine
Links Mentioned:
Facebook | Instagram | Twitter | Website
"Nothing in our history, nothing in our biology has prepared us for the last 60 years of food which is highly refined, highly processed, highly convenient, and nutrient depleted." – Tieraona Low Dog